We're your exterior commercial cleaning experts!
If your commercial building's exterior is looking worse for wear lately, come to us for exterior commercial cleaning. We'll help your commercial property maintain a professional appearance with our cleaning products and equipment.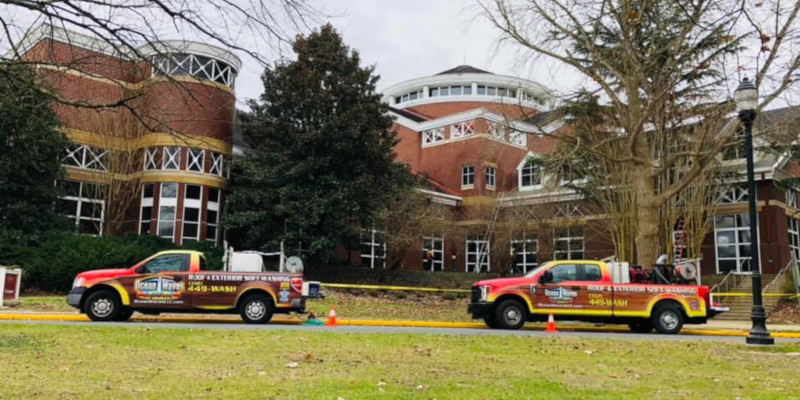 We use a soft wash chemical cleaning system that won't damage your building or the environment. Our methods allow us to complete your exterior commercial cleaning safely and efficiently. Using a mixture of algaecide, fungicide, and 1-3% sodium hypochlorite, we can successfully kill mold, algae, and bacteria infestations, as well as remove stains, sanitize the area, and prevent the infestations from coming back. By the end of the process, you will be left with a renewed, clean, and beautiful property.
At Ocean Waves SoftWash, we started as a commercial cleaning company, so we have extensive experience with exterior commercial cleaning. We can handle large cleaning projects easily whether it's for apartment communities, government facilities, schools or universities, hospitals or health care facilities, sports stadiums, theme parks, gas stations, and more.
If you need exterior commercial cleaning in Rehoboth Beach, Delaware, we are the experts for you. With 24 years of experience in the business, we will apply our expertise and provide superior results. We pride ourselves on our customer service and care deeply about your satisfaction, which is why we offer a 100% money-back guarantee. If you have questions about our exterior commercial cleaning service, we hope you will give us a call soon. We look forward to hearing from you and helping you however we can.
---
Exterior Commercial Cleaning
Exterior Commercial Cleaning in Selbyville, DE
Similar Services We Offer: