Our team offers thorough exterior commercial cleaning services to help you keep your business looking its best.
Here at Ocean Waves SoftWash, we understand that your business is important to you, and we want to help you do what's best for it. A key part of running any business is keeping your facility in great condition, and that includes keeping it clean both inside and out. Regular cleaning will help prevent wear and tear on the building and ensure that your business always looks its best to impress your customers. Our team offers expert exterior commercial cleaning services that will keep your building immaculate.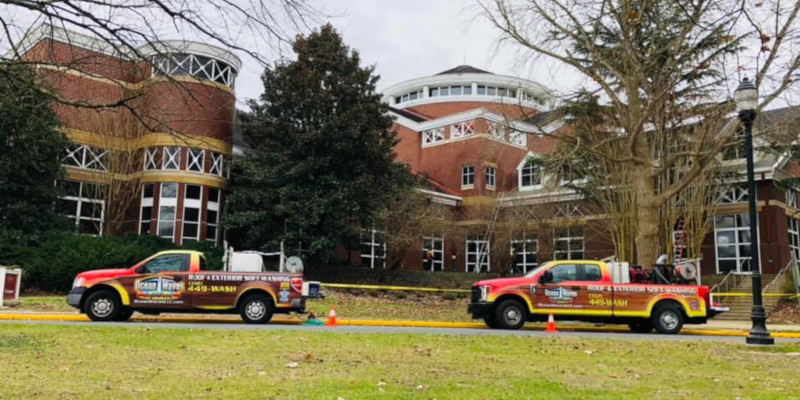 For our exterior commercial cleaning services, our team uses a method known as soft washing. This method involves first treating your exterior walls with a blend of biodegradable cleaning solutions that will loosen the dirt and grime and make them easier to remove. In addition, these cleaning products will kill any microorganisms that may be present on your walls, which will prevent more dirt from collecting there and deliver a more thorough, long-lasting clean. We then wash everything away using low-pressure jets of water. Our methods address the root cause of dirt buildup, so you can expect your building to stay cleaner for far longer with less chance of erosion.
We want to help you keep your business looking its best to ensure that you can make a great first impression on your customers. If your commercial building has seen better days, simply give Ocean Waves SoftWash a call to get our professional exterior commercial cleaning technicians on the job.
---
Exterior Commercial Cleaning in Rehoboth Beach, DE
Exterior Commercial Cleaning in Selbyville, DE
Similar Services We Offer: