A clean parking lot gives a great first impression.
A well-kept parking lot makes a big difference in how a building looks. Regular parking lot cleaning removes dirt, dust, and stains, providing customers and workers with a welcoming and clean environment. At Ocean Waves SoftWash, we offer exterior cleaning services like parking lot cleaning that let others know you care about attention to detail and take pride in your company. Whether you own a large building with multiple tenants or a stand-alone business, investing in your exterior will help you succeed.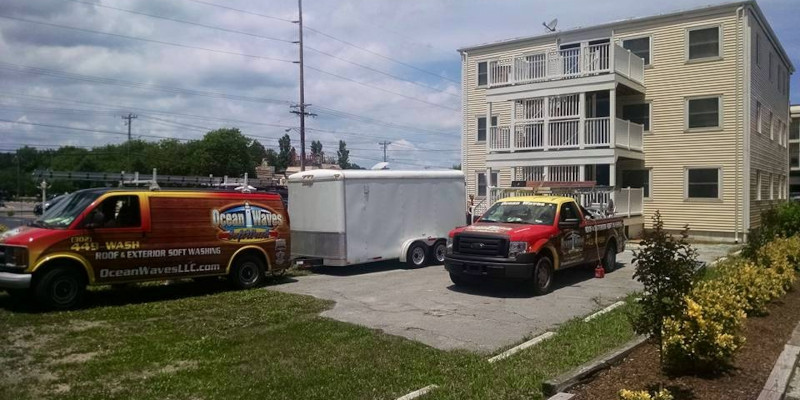 Over time, debris and other contaminants can build up in parking lots, putting people and cars in danger. Parking lot cleaning reduces these risks and ensures safety. A clean lot also makes it easier for people with disabilities to get around and helps you stay in compliance with accessibility requirements.
Some of the contaminants that build up on your parking lot include oil and grease, which can pollute the environment. Rainwater can wash these pollutants into storm drains, affecting water sources. By hiring our experienced team to maintain your parking lot, you are taking vital steps to help the environment.
In addition, these things, along with other debris, can cause damage to your parking lot in the form of cracks and potholes. Cleaning the parking lot regularly can make the pavement last longer and save money on repairs and repainting.
Parking lot cleaning services are also necessary to provide a good shopping experience. When your lot is clean, customers believe the interior of your business will be the same, and that same attention to detail will flow throughout the services you offer. In other words, a clean parking lot sends a positive message that you care about them and your business.
Investing in parking lot cleaning makes sense, providing short-term and long-term benefits. If you are a business or property owner and need assistance with your parking lot, contact our team today.