When performing a paver sealing job, we never cut corners or skip critical steps.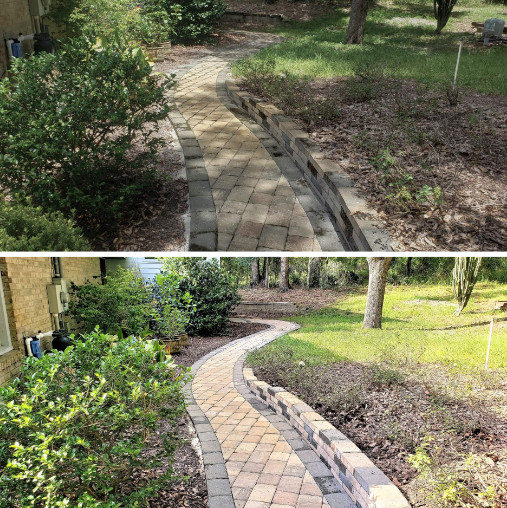 The paver installation process often involves applying a sealing coat that provides a layer of protection. However, not all paver installers know the importance of this step. When left unsealed, pavers are more vulnerable to staining and degradation from exposure to environmental contaminants and changing weather conditions. If you decide to invest in the installation of pavers on your property, it makes sense to protect your investment by having them properly sealed. At Ocean Waves SoftWash, we can take care of this process on your property, as we're experts in paver sealing.
Before we start sealing the pavers, our technicians will fully clean and prep the surface for the application of the coating. We can remove any old joint sand and replace it with clean, kiln-dried joint sand that performs well. After completing this step, we'll apply the Trident Hurricane CAT 5 sealing material, which is the ultimate in two-part sealing products available in the industry. It includes a new form of urethane, which provides ultra-durable surface protection. This material also hardens the replacement joint sand to prevent washout and movement.
When performing a paver sealing job, we never cut corners or skip critical steps. Our goal is to make sure that your paved walkway, pathway, or other surface is protected. If your property is located in Selbyville, Delaware, contact us to find out how we can help improve the appearance and functionality of your pavers. We can also visit your property to provide you with a cost estimate for paver sealing.
---