Is your siding covered in dirt and grime? Let our certified team wash it for you.
Your siding can add a lot to your home in terms of beauty and function. Not only does it offer a traditional and charming aesthetic, but it also protects your home from the elements. It has an important role to play, so if your siding is covered in dirt, grime, and other unpleasant substances, be sure to get it cleaned. Our team of professionals at Ocean Waves SoftWash offers siding washing in Rehoboth Beach, Delaware, and we would love to tell you all about our method.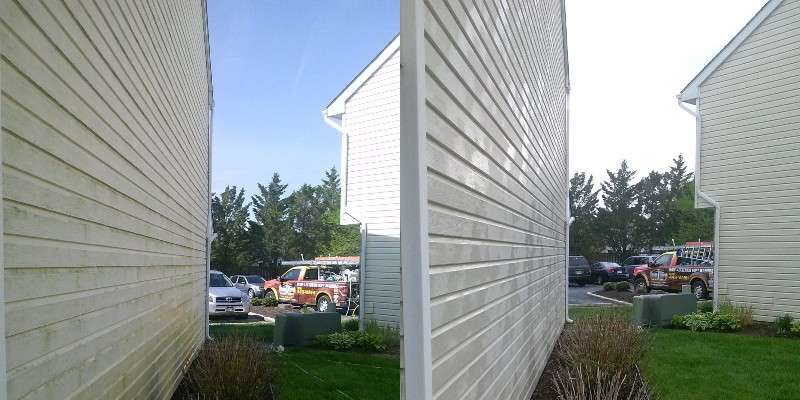 When we provide siding washing, we aim to provide the most effective results without putting your siding at risk of damage. That's why rather than pressure wash your siding, we use a gentle method called soft washing. Using 40 psi pressure, which is similar to your garden hose's pressure, we apply a biodegradable chemical mixture to your siding. These chemicals work to emulsify dirt and grime, break down insect nests, and kill contaminants like algae and fungi that threaten to damage your siding. After a short time, we rinse everything off and leave you with siding that looks better than ever.
Our siding washing method is highly effective because it treats the source of the problem. Merely blasting away algae, fungi, mold, or other organic substances would keep your siding looking good for a while, but the "roots" would remain and cause these substances to return in just a few months. Soft washing sanitizes your siding so the contaminants will be eliminated, keeping your siding clean 4-6 times longer than pressure washing would.
If your home needs siding washing, contact us today to schedule it.
---
At Ocean Waves SoftWash, we offer siding washing services to customers in Selbyville, Dagsboro, Frankford, Ocean View, Lewes, Millsboro, Rehoboth Beach, and Bethany Beach, Delaware, as well as Bishopville, Ocean City, Berlin, and Ocean Pines, Maryland.