If your concrete is stained and dingy, come talk to us.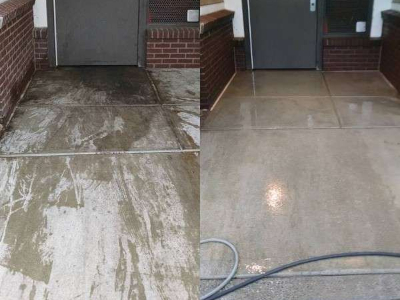 When you look outside, chances are you'll see a lot of concrete. It's one of the most popular choices when it comes to constructing sidewalks, driveways, and more, in large part due to its durability. However, though concrete is a strong material, it's still susceptible to staining and getting ruined over time. Your exterior concrete surfaces will need to be cleaned every so often to help prevent the damages that may come with aging concrete that hasn't been washed. Repairing or replacing your concrete surfaces can be a pain to deal with, so why not keep your concrete in good condition for as long as possible with a concrete washing service?
To get the best results, concrete washing should be done by a professional company that can evaluate the surface and determine whether pressure washing or soft washing would be best. Sometimes methods like pressure washing aren't appropriate for concrete, so it's important to pick the right type of concrete washing service to help preserve rather than damage your driveway, sidewalk, or other exterior concrete surfaces. Our technicians have the experience and training to properly assess any surface to ensure that they use the right technique to provide the most effective cleaning service possible.
Here at Ocean Waves SoftWash, we work hard to make sure every surface we clean is washed thoroughly and not damaged after we're done with it, and our concrete washing service is no exception to this. We have over 20 years of experience in the industry as well as high-quality materials and equipment, so you know that we're well-equipped to handle your exterior cleaning needs. If your concrete surfaces need washing, reach out to us today.
---
At Ocean Waves SoftWash, we offer concrete washing services to customers in Selbyville, Dagsboro, Frankford, Ocean View, Lewes, Millsboro, Rehoboth Beach, and Bethany Beach, Delaware, as well as Bishopville, Ocean City, Berlin, and Ocean Pines, Maryland.
Similar Services We Offer: