Choose a cost-effective way to extend the life of your concrete.
With concrete sealing, your concrete surfaces last longer because they are less susceptible to weather damage, stains, and wear. The sealer also brings out the color of the concrete, making it look more attractive. Also, finished concrete is easier to clean and care for, saving you time.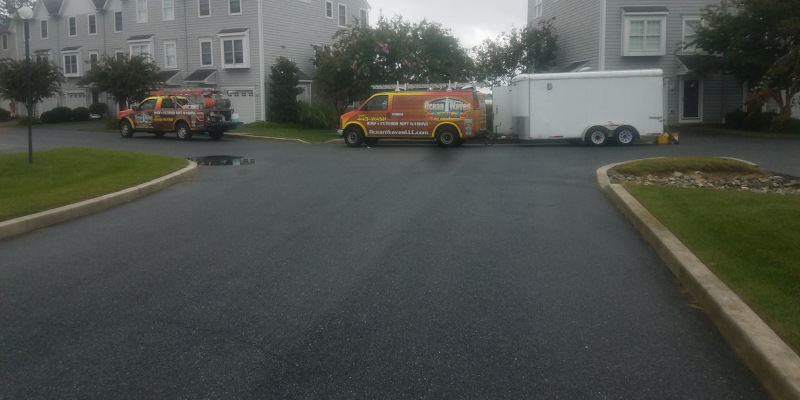 Concrete sealing can be used on your driveway, walkway, patio, or business parking lot. It is a cost-effective way to extend the life of these surfaces. When it comes to how often concrete needs to be sealed, it usually depends on the type of sealant used and how much foot or car traffic the area gets. Most of the time, though, we suggest resealing every two to three years to keep the best protection and look. The process itself doesn't take too long. A normal driveway can usually be sealed in a day, but it's important to stay off the surface for at least 24 hours to let the sealant set.
Preparing for concrete sealing is simple. Before concrete sealing begins, the surface needs to be clean and dry. We ask that you remove any furniture, cars, or other things in the area before we start. Our team at Ocean Waves SoftWash will clean the surface and make sure it is free of dirt, grease, and old sealant before the new layer is put on.
We bring our experience and attention to detail to every concrete sealing job. This makes sure that your surfaces are not only protected but also look better. Contact us today to find out more about how we can help you keep your concrete surfaces looking good.
---
At Ocean Waves SoftWash, we offer concrete sealing services to customers in Selbyville, Dagsboro, Frankford, Ocean View, Lewes, Millsboro, Rehoboth Beach, and Bethany Beach, Delaware, as well as Bishopville, Ocean City, Berlin, and Ocean Pines, Maryland.