Keep your deck looking its best with professional deck washing.
Is your deck looking grimy or dirty? Has mold or mildew recently become a problem on your deck? Are you planning on selling your home and want to leave a good impression on any potential homebuyers? If you answered "Yes" to any of these questions, our professional deck washing services will take care of the filth that has accumulated on your deck, leaving your deck looking its best.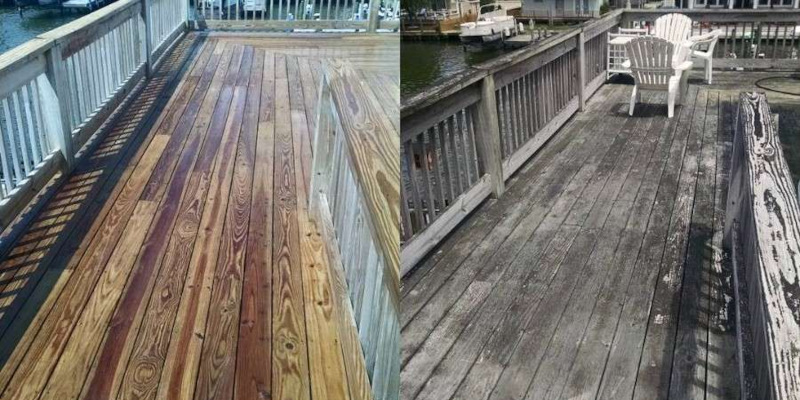 Maintaining your deck is important, and proper deck maintenance includes deck washing. However, many people don't realize that simple soap and water aren't strong enough to effectively clean your deck. If you want to help prolong the life of your deck with thorough cleaning methods, you'll want to utilize professional deck washing services that use a soft washing technique. Soft washing is an alternative to pressure washing that is more effective for less durable surfaces, like your deck. Our soft washing method uses a chemical solution that targets filth and grime without utilizing excessive force or pressure that can damage your deck. With soft washing, you don't have to worry about ruining your deck when you're trying to keep it clean.
A clean, professionally washed deck enhances the appearance of your home's exterior. Plus, by getting rid of mold, mildew, or other filth that can make you sick, you can help prevent yourself and your family from getting sick when you're out on your deck. If you want the best deck washing results, come talk to us here at Ocean Waves SoftWash. You can count on our soft washing method to get rid of the grime without damaging your deck, so give us a call today.
---
At Ocean Waves SoftWash, we offer deck washing services to customers in Selbyville, Dagsboro, Frankford, Ocean View, Lewes, Millsboro, Rehoboth Beach, and Bethany Beach, Delaware, as well as Bishopville, Ocean City, Berlin, and Ocean Pines, Maryland.
Similar Services We Offer: