If you're someone who takes a lot of pride in your home, you're probably aware that its exterior can get very dirty very quickly. Whether it's dirt, grime, algae, fungi, or mold plaguing your house, there are a lot of ways you can go about addressing the problem. Some people turn to pressure washing. However, this method is not ideal for your home's delicate materials. At Ocean Waves SoftWash, we have a better way to wash your house's exterior, so turn to our certified team the next time you need house washing.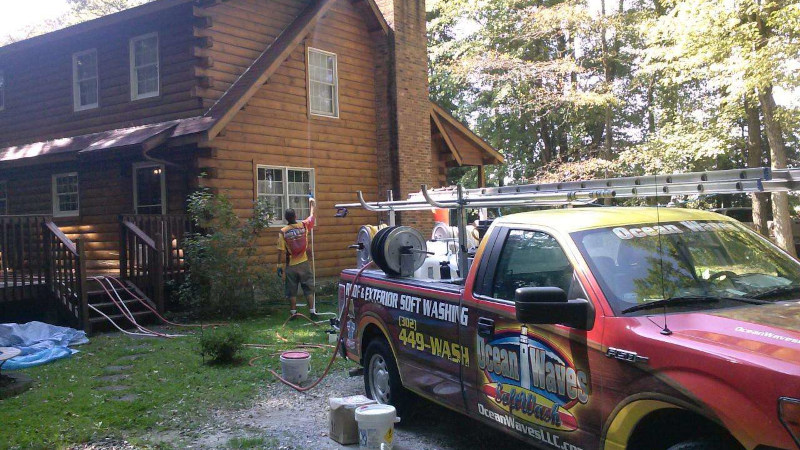 Soft washing is our primary exterior cleaning method and the one we use to clean houses. It is a gentle method that won't damage your building materials, harm your plants, or use excessive amounts of water. Here's how it works: We'll begin by using 40 psi pressure to apply a special mixture of biodegradable chemicals. The amount of pressure is similar to that of your garden hose, so there is no need to worry about applying too much pressure on your house. We'll let the chemical mixture sit for a short time, allowing it to emulsify dirt and grime as well as kill harmful contaminants like algae and fungi. Afterward, we will rinse off your home with low pressure water.
Soft washing is the ideal house washing method because it sanitizes your home. Algae, fungi, and other contaminants will simply return in a few months if you don't treat them at the source. Applying our chemical mixture removes them completely, so the results will last 4-6 times longer than pressure washing or other methods.
If you're interested in house washing services with results that last, contact us today to schedule an appointment.
---
House Washing in Rehoboth Beach, DE
Similar Services We Offer: