If your siding is looking dingy, simply give us a call to get the expert siding washing services you need to make it look like new.
Maintaining a building is a perpetual project, and one that involves many different tasks. One of the most important things you will need to do to keep your building in great shape is to keep it clean, both inside and out. For example, you will need to wash the siding once or twice a year to ensure it looks great and prevent unnecessary wear and tear. Our team at Ocean Waves SoftWash has extensive experience in the exterior cleaning industry, and you can count on us to provide the expert siding washing services you need.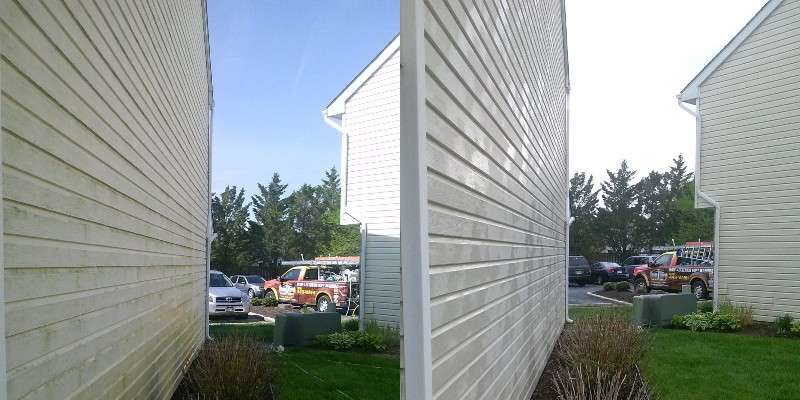 For a long time, the standard method used to clean siding was pressure washing, but these days, many companies, including ours, are offering soft washing services for this purpose as well. Our team will assess your siding to determine which method is best for it and then get to work on the siding cleaning process itself.
To give you a better idea of what to expect, pressure washing involves spraying the siding with high-pressure jets of water, which blasts away the dirt and grime through force. Soft washing, on the other hand, involves first treating your siding with specialized cleaning products to loosen dirt and eliminate mold, mildew, and similar contaminants; then, we'll spray the surface with a much lighter stream of water to wash it all away.
No matter which method we choose for your siding cleaning project, we will make sure to remove all traces of dirt and grime to leave your siding looking like new. Contact us today to get started.
---
At Ocean Waves SoftWash, we offer siding washing services to customers in Selbyville, Dagsboro, Frankford, Ocean View, Lewes, Millsboro, Rehoboth Beach, and Bethany Beach, Delaware, as well as Bishopville, Ocean City, Berlin, and Ocean Pines, Maryland.