Turn to our pressure washing company for the best results.
Here at Ocean Waves SoftWash, our team prefers to use soft washing methods in most cases. We typically opt for soft washing over pressure washing for more delicate materials, surfaces that need to be thoroughly sanitized, and for people who want an environmentally friendly cleaning solution. However, there are select situations where pressure washing is the best option.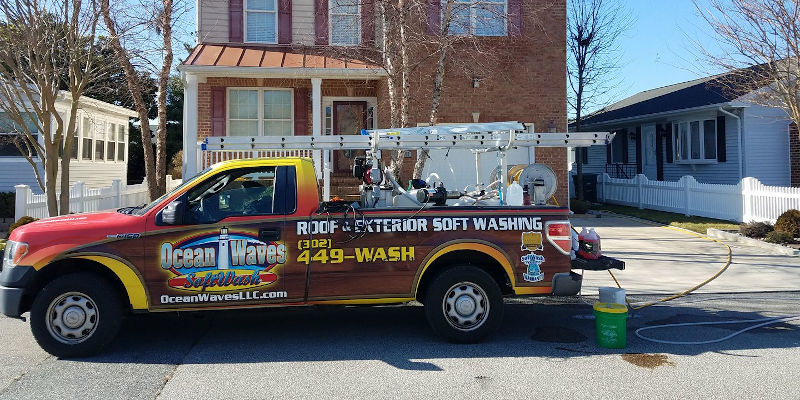 Although we are not primarily a pressure washing company, you can expect the same level of care and professionalism from our team as any other professional pressure washer. We have over 25 years of experience in exterior cleaning methods, so we're well equipped to handle pressure washing equipment safely and effectively.
If you contact our pressure washing company for exterior cleaning in Ocean View, Delaware, we will come to your location to assess the type of material you need washed and the amount of debris or damage the surface has. However, even if you initially called us for pressure washing, we may recommend soft washing services instead. We don't want to risk pressure washing surfaces that may get dented or broken by the high water pressure, such as wooden decks or vinyl siding. If the problem is a stubborn stain on your concrete driveway, however, pressure washing may be necessary in order to effectively remove the debris.
When you rely on our pressure washing company, you can expect high-quality service no matter what. Our experts are skilled at identifying the best cleaning solutions for every situation, so you can trust us for the most effective and long-lasting method. If you'd like to learn more about our full range of exterior cleaning and restoration options, simply give us a call to set up an appointment with an expert.
---
At Ocean Waves SoftWash, our pressure washing company serves customers in Selbyville, Dagsboro, Frankford, Ocean View, Lewes, Millsboro, Rehoboth Beach, and Bethany Beach, Delaware, as well as Bishopville, Ocean City, Berlin, and Ocean Pines, Maryland.