We can take care of your power washing needs.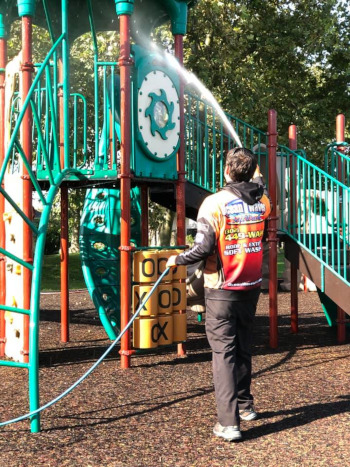 We know how frustrating it can be when you have a particularly dirty deck, patio, driveway, or other surface that needs more intense cleaning than a regular old hose can accomplish. It may seem like no matter what you do or how hard you scrub, you can't get rid of all the dirt and grime. If you are in a situation like this, power washing may be a good option for you.
Power washing is exactly what it sounds like. Water alone can't always clean away tough stains, algae, mold, and fungi, but water with sufficient pressure can. The amount of pressure you need to use will depend on your particular project, but it may range anywhere from 500 to over 3000 psi (pounds per square inch). This is much more pressure than you get from a typical hose, which is in more in the 45 to 80 psi range.
Because the process involves a huge amount of pressure, you should always rely on a professional to complete your power washing service. We will be able to select the right nozzle and amount of pressure for your particular job so you can avoid sustaining damage to whatever surface is being washed.
When we're done power washing your driveway, garage floor, deck, walkway, or other surface, you'll find that there is a visible difference. Our team at Ocean Waves SoftWash is well-equipped to handle your power washing needs in Selbyville, Delaware, so give us a call today to learn more and get started!
---