You can count on our house power washing experts to keep your home in excellent condition.
When most people think of exterior cleaning, they tend to think of house power washing. Power washing, also called pressure washing, has been the most popular method of exterior cleaning practically since its invention, as it provides excellent results and is much more convenient than cleaning exterior walls by hand. Our team at Ocean Waves SoftWash has extensive experience in the exterior cleaning business, and you can count on us to keep your home looking like new.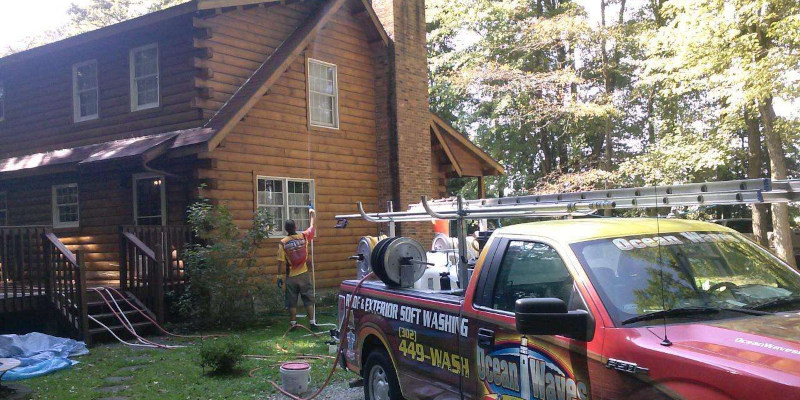 Although we are proud to offer excellent house power washing services, we also understand pressure washing is not the best method for every application. For example, pressure washing is not always ideal for cleaning softer surfaces like roof shingles. Because of this, we also offer soft washing services. Soft washing is an alternative to traditional pressure washing, and the main difference between the two is the level of water pressure involved—soft washing uses a much lower level of water pressure, which makes it better for more delicate surfaces.
When you call our team for exterior cleaning services, our team will ask you a few questions about your property and the surfaces you want us to clean in order to determine which method is best for you. Once we have made that determination, our team will get to work on the cleaning process itself, removing all traces of dirt, grime, and other contaminants from your home's exterior to leave it completely spotless.
If you are interested in giving our house power washing services a try, we encourage you to give us a call today.
---
At Ocean Waves SoftWash, we offer a superior alternative house power washing services to customers in Selbyville, Dagsboro, Frankford, Ocean View, Lewes, Millsboro, Rehoboth Beach, and Bethany Beach, Delaware, as well as Bishopville, Ocean City, Berlin, and Ocean Pines, Maryland.