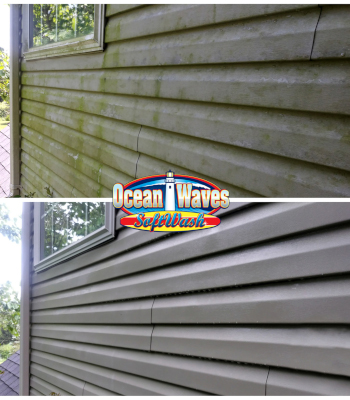 When it comes to cleaning the exterior of your home in the beautiful Maryland and Delaware beach towns, you have two main options: soft washing and power washing. Both methods can get the job done, but they come with different costs, benefits, and risks. So, how do you choose the right one for your house siding in these coastal communities, and what is the average cost?
Costs of Soft Washing vs. Pressure Washing
The average cost of soft washing the siding on a house can range from $400 to $1,500, depending on the size of the home and the complexity of the job. Soft washing is typically more expensive than power washing because it requires specialized equipment and chemicals that make the cleaning last longer than traditional power washing .
The process involves applying a low-pressure solution of detergents and biocides to the siding, which breaks down dirt, grime, algae, and mildew. The solution is then rinsed off with a gentle spray of water. This method is less abrasive than power washing and is safe for most types of siding, including vinyl, wood, and aluminum. This is an ideal solution for homeowners in Maryland and Delaware beach towns, where harsh weather and salty air can cause wear and tear on siding materials.
The average cost of power washing the siding of a house can range from $200 to $500, depending on the size of the home and the complexity of the job. Power washing involves blasting water at high pressure to remove dirt and debris. This method can be more damaging to the siding, especially if the pressure is too high or if the operator is not experienced.
Power washing is best for concrete surfaces and tough stains, but it may not be suitable for delicate materials such as vinyl, stucco, or brick. For homeowners in the Maryland and Delaware beach towns, power washing may be a good option for removing stubborn oil stains in concrete and paver restoration & old wood decks that have not been maintained.
Top 3 Things to Look for When Hiring a Company in Maryland and Delaware Beach Towns
Experience and training. Make sure the company you hire has a track record of success and that its technicians are trained and certified in the methods they use. Ask for references and check them. Look for a company that has experience working in the harsh coastal environments of Maryland and Delaware beach towns.
Equipment and chemicals. Ensure that the company uses high-quality equipment and environmentally friendly chemicals that are safe for your siding and your family. Ask about the types of solutions they use and their safety ratings. Choose a company that uses the latest technology and techniques to deliver the best results.
Insurance and liability. Make sure the company is insured and that you are protected in case of damage or accidents. Ask for proof of insurance and check the coverage limits. Choose a company that is fully licensed and insured to protect your investment and your peace of mind.
If you live in a coastal beach community in the Rehoboth & Lewes Beach area or down to Ocean City, Maryland, or an inland town, consider choosing Ocean Waves SoftWash for your exterior cleaning needs. Our soft washing method is safe, effective, and environmentally friendly, and our team of experts will help keep your home or building looking its best for years to come.